Accueil

/

Pourquoi choisir Boatshed pour vendre votre bateau
Pourquoi choisir Boatshed pour vendre votre bateau
Nous vendons plus de bateaux que quiconque
Plus de 50 bureaux
à travers le monde
A ce jour plus de 700 000 clients
enregistrés à la recherche d'un bateau
Nous vendons plus de
1,000
bateaux chaque année
et depuis le début, Boatshed a pris plus de 20 000 bateaux à la vente
et plus de 260 000 visiteurs sur notre site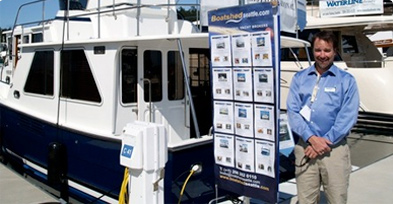 Boatshed est l'un des plus grand groupe de courtage dans le monde nautique international, spécialiste de la vente et achat d'une large gamme de bateaux d'occasions: yachts, voiliers, bateaux à moteur, bateau de pêche sportive, bateaux traditionnels, narrowboats, péniches, vedettes fluviales, bateaux de courses, bateaux de servitude, bateaux commerciaux pour ne citer que quelques exemples.
"I was not expecting to sell my boat so quickly and at a great price. The Boatshed broker was present at every stage of the process and took a close interest, keeping me fully informed. His knowledge, expertise and involvement brought about a speedy conclusion."
Tony Richards, Satisfied Boatshed Customer
Lire d'autres témoignages

Boatshed depuis sa création en 1999 n'a cessé de croître et est devenu un incontournable dans le secteur de courtage de l'industrie nautique en Angleterre comme dans le reste du monde.
Nous sommes fiers de réunir plus de 120 courtiers et agents spécialistes du courtage, intervenant dans plus de 63 régions et dans plus 18 pays. Le système en ligne performant de Boatshed, est pionnier dans le domaine de la vente de bateaux d'occasion car il est innovant et offre un "process" complexe et transparent, parmi les meilleurs du marché.
Un de premier avantage pour un vendeur de placer son bateau chez Boatshed est qu'il est assuré que son bateau sera visible bien au delà de sa localité. Notre système de technologie d'informations est en perpétuelle amélioration et gérée au quotidien par une équipe professionnelle qui est à l'affût des nouveautés et améliorations. Pour un vendeur cette technologie embarquée améliore nettement la potentialité de la vente et pour un acheteur c'est un une aide précieuse pour rapidement trouver le bateau de ses rêves.